"FAEC CF Thomas A. Edison Award"

"Genius is one percent inspiration and ninety-nine percent perspiration"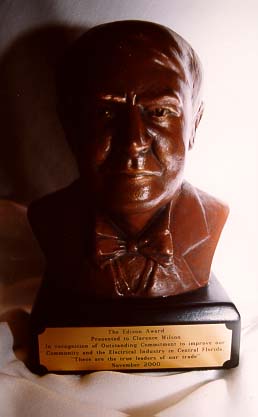 The Edison Award is presented to an individual who has unselfishly

given their time and heart through charitable work and has strived to

improve the electrical industry in Central Florida.

"These are the true craftsmen of our industry"
We are proud to present the 2008 "Thomas A. Edison Award" to Mr. Edward J. Fox, Jr.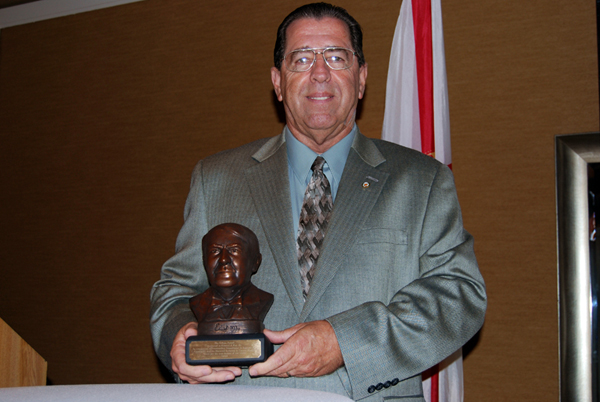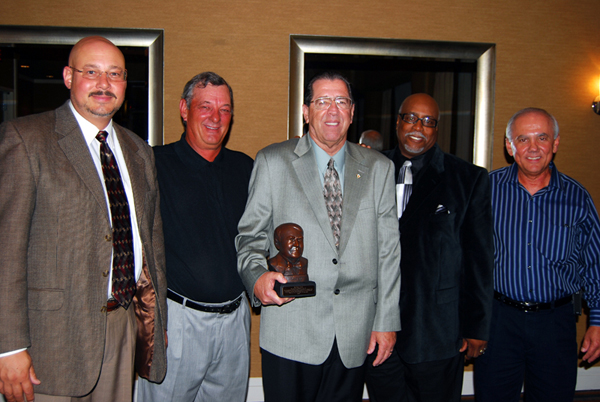 Ed Joined by previous "Edison Award" Winners
(L-R: Joe Territo, Craig Eddington, Ed Fox, Clarence Wilson, Mike Freiner)

Edward J. Fox Biography

1994 - Present Chief Electrical Inspector, Orange County, Orlando, Fl. I have 18 electrical inspectors under my supervision.
1990 - 1994 Deputy Chief Electrical Inspector, Orange County, Orlando, Fl.
1980 - 1990 Electrical Inspector, Orange County, Orlando, Fl.
1971 - 1980 Journeyman Electrician, Palmer Electric Co., Winter Park, Fl. Electricians Helper starting pay $ 1.85 hr.
1967 - 1970 US Navy Seabees, Electrician and communications specialist. I served in Viet-Nam during 1968 and 1969.
1963 - 1967 Ensco Inc, Draftsman, Cleveland, Ohio. I worked for my father in his business after school hours and weekends while still in school.
School History:
1972 Attended Mid Florida Tech Electrician Courses
1967 US Navy "A" School, electrician and communications specialist.
1965 - 1967 Cuyahoga Community College, Cleveland, Ohio, Mechanical Engineering
1965 Graduated High School, Mayfield High School, Mayfield, Ohio

Certifications:
Certified by the State of Florida as Building Official, Plans Examiner, and Inspector
Certified Building Official, Chief Electrical Inspector, and Department Director by the Building Officials Association of Florida
Master Electrician registered 1986 Orange County


Associations:
From 1983 to the present I have been a member of the International Association of Electrical Inspectors. I am a Central Fl Division Past President and since 1990 the current Secretary/Treasurer for the Central Fl Division. During this time as Secretary for the Central Fl Division I have been responsible for setting up all the educational seminars and the golf tournaments. I also publish the monthly Newsletter for the Central Fl Division and email it to over 500 individuals in the electrical industry. In the newsletter I put the minutes from meetings from the different associations meetings that I attend plus code articles as well as any informational news that the industry might benefit from.


Yearly I attend state and regional meetings with the IAEI. Each year a different state holds what is called the Southern Section Meeting.

Since 1990 I have also served as honorary chairperson for the Central Florida Advisory Board committee which meets monthly. The electrical chiefs from the twenty one Central Fl jurisdictions attend these meetings. At these meetings we discuss policies, procedures and code questions to interpretations. I take the information from these meetings and report it at the monthly meetings of the IAEI CF.
I am currently serving on the Board of Directors for the IAEI, Florida State Chapter.
I am a member, past secretary and currently a Board Member for the Electrical Council of Central Florida (ECF). At these meetings I try to input as much from the Inspectors perspective in matters relevant to the electrical industry. The ECF usually schedules a code related business meeting during the year where I and several other chiefs are code panelist and we try to answer questions and inform the industry on what's going on.
I also submit code articles of interest to the ECF Newsletter.
I am a member of the Florida Association Electrical Contractors. I attend meetings periodically and represent Orange County in matters relating to the electrical codes.